Kreativni Krajobrazi had its beginning in the midst of the last major recession.
As such, we have learned to exist in the conditions of financial illiquidity of others and lack of will for arrangement of environment.
We also learned to implement the knowledge and technology of today's changing world.We run projects under the same principles we live in:functionality, sustainability, ecology, consistency and good design.
We want the spaces we design to be comfortable, relaxed, beautiful and functional.
We strive to help our clients to enjoy the beautiful spaces that have the sense, function and in which they can proudly invite their friends, guests or business partners.
In the design, our role model is nature. Nature is cruel in its being, but it also offers us many solutions that we can use. We take the best ideas out of it, and we leave out cruelty.
Although the base of Kreativni Krajobrazi are these two heads below this text, it is true that we are a much more modular contemporary company, and that each project is specifically tailored depending on the size and complexity of the task.
Our associates are so many and with different professions that we will not even try to list them all.
What kind of a projects are we doing?
It is hard to specialise in a small market environment like Croatia so we must boast with a wide range of projects: from collaboration with national parks to small private gardens. From the cafe's terrace to the hotel's surroundings. Each project is a challenge for itself, and in every area we love finding hidden gems.
And every job is a learning opportunity, so you could see the B.Sc. of landscape architecture in gardeners garments helping with workers in implementing the design on the field.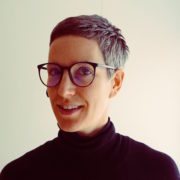 Kaja Šprljan Bušić
Our driving force. We wanted to call ourselves Creative Kajobrazi (sounds funnier in Croatian), but she rejected it. She is very modest. We really do not know why, because she has had collected knowledge in Germany (Latz + Partner) and China (Turenscape).
Here is her CV for the interested ones.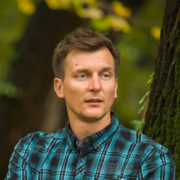 Branko Šprljan
There is pseudo-humoristic text in croatian version, but it is even less funny in English, so no. Let's just say Branko is an ok person. Sort of. He performs as a web page admin, copyrighter, planter, driver, accountant…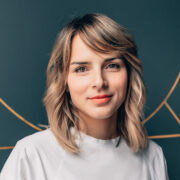 Iva Šimić Erjavec
Coexistence with Iva never went into the "it's complicated" category. In fact, quite the opposite. Her architectural style is completely in line with our landscape-architectural style. And besides, she is a pleasant company.
ASSOCIATES
Ines Hrdalo – Doctor of Landscape Architecture, a person with a lot of knowledge
Timea Marochini – architect, it runs in the familiy
Ljuba Južnič – agronomist and geomantic
Ana Marija Unković – architect and body-painting artist
Antun Cerovečki – a photographer, a man and a master of cuisine. mostly all photos on our site are his, at least the good ones
Sara Hočevar – architect and dance champion
Vlatka Colić – landscape architect
Lena Telenta – designer, yoga teacher and wanna-be hairdresser
Zrinka Nedeljković – fashion and product designer, scenographer
Zrinka Maranić – landscape architect
Nataša Fiolica – landscape architect, a world traveller and a person who does not believe in worries
The best time to plant a tree was 20 years ago. The second best time is now.
You surely remember how children are deeply drowned in the game and in this game they fantasize about creating marvellous worlds, build brick towers, embodying incredible elements in the story and enjoying it all.
Well, we are those kids. We continue to think of miraculous worlds, build towers, add incredible elements to the story, and enjoy everything in this process.
Only in real world.