English version below
---
Koliko god to smiješno zvučalo, neki smo dan napravili prilično veliku turu po Sloveniji. Išli smo pogledati lokacije potencijalnih budućih
projekata, brainstormali o tekućim, uživali u danu bez sjedenja pred kompjuterom, dobro smo pojeli i popili i općenito se dobro zabavili.
No, to ne bi bila neka tema za blog, da na svojem putu nismo svratili i u zanimljiv rasadnik.
Zapravo, već sama lokacija rasadnika je prilično intresantna. Rasadnik «Trajnice Golob Klanjčič» je smješten u slovenskom primorju, u selu Vitovlje blizu Nove Gorice na visini od skoro 400 n/m. Sa rasadnika se pogled pruža na cijelu dolinu i prema moru.

No, ono štoje najbitnije kod ovog rasadnika je način na koji postupaju sa biljkama.
Prvenstveno, uzgajaju samo trajnice. Sve biljke koje prodaju su uzgojene kod njih, a svaku novu vrstu koju žele ponuditi na tržištu prvo iskušavaju u svojim ispitnim nasadima. Također, bitnija im je izdržljivost biljke od njenog izgleda. Ponekad biljke ne izgledaju reprezentativno ali rasadnik garantira da će se biljke uspjeti održati nakon što ih presadite.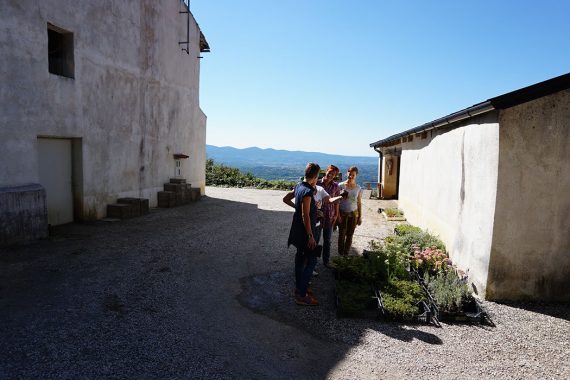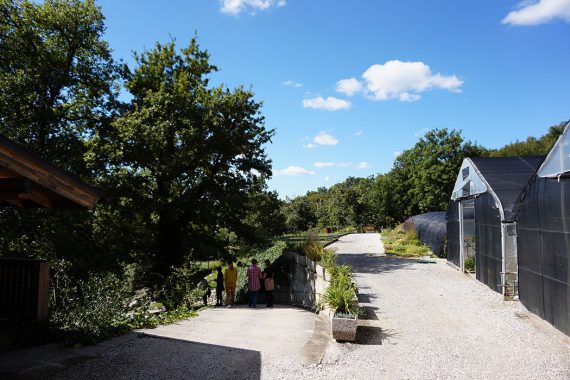 Zato koriste samo supstrate koje sami proizvedu i ne gnoje ih umjetnim gnojivima. Prilično spartanski način uzgoja. Ja bih čak radije rekao šaolinski, jer biljke započinju život u svom hramu na brdu, izložene buri, zimi, suncu i ostalim prilikama i neprilikama koje ih čine sposobnim za preživljavanje i kod kume Kate koja, eto, ponekad zaboravi zaliti vrt. Ili slično.
Nama ostaje pitanje gdje pronaći takav rasadnik i u Hrvatskoj (mi jako volimo raditi sa Bobicom, slobodno nam šaljite i druge kontakte) te kako investitoru ponuditi biljku koja izgleda tako kako izgleda, na osnovu toga da će preživjeti te će kroz redovno održavanje izgledati kako bi trebala izgledati. Kroz par godina.
Bonus lokacija koju smo taj dan obišli je Mladinski hotel Pliskovica.
Uređenje je manje orijentirano na unutarnji prostor a više na okoliš. Vrt je vrlo ukusno projektiran, prostran, sa sadržajima i za mlade i za djecu i za relaksaciju.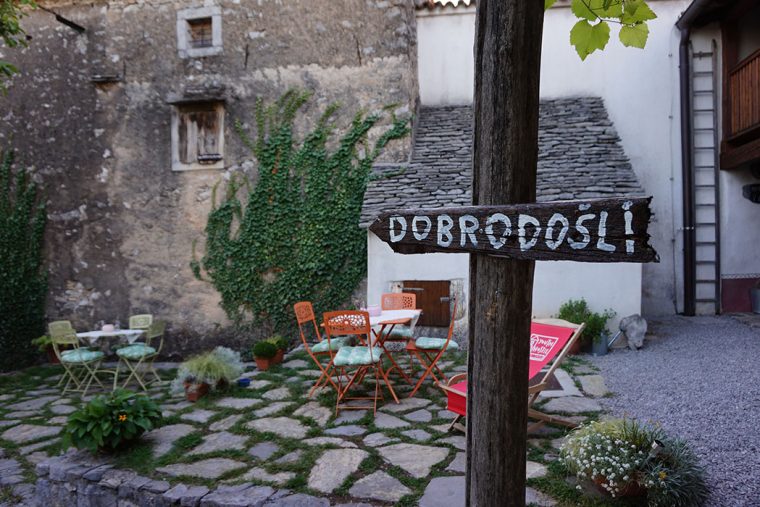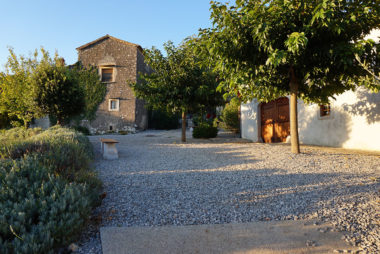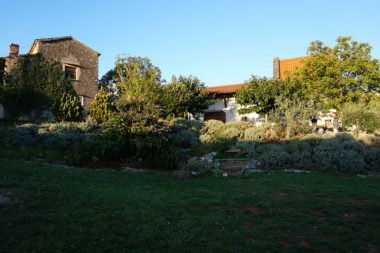 English version
---
No matter how ridiculous it may seem, a couple of days ago we made a pretty big tour across Slovenia. We went to see the location of potential
future projects, brainstormed on current ones, enjoyed the day without sitting in front of a computer, we ate and drank well and generally had
a good time.
But it would not be a topic for a blog on if we didn't stop at an interesting nursery. In fact, the very location of the nursery is quite interesting.
Nursery "Trajnice Golob Klanjčič" is located in the Slovenian coast, in the village of Vitovlje near Nova Gorica at a height of almost 40om above the sea. Nursery have a view over the entire valley and the sea. But the most important thing in this nursery is the way they treat the plants.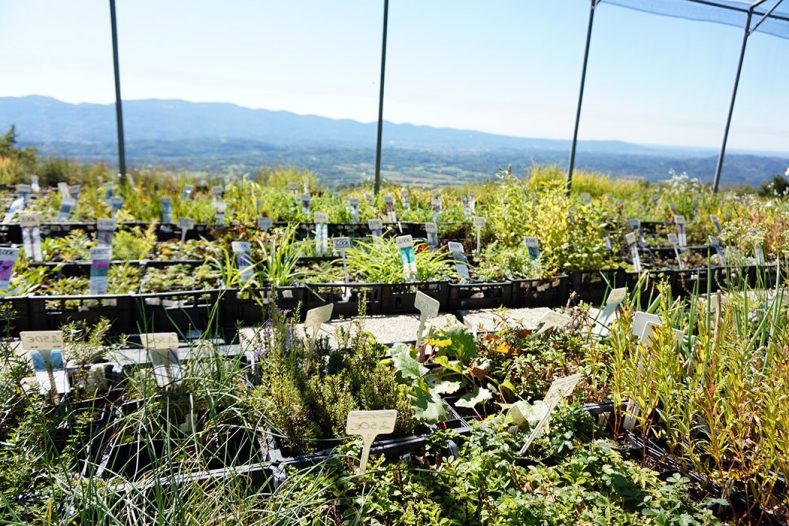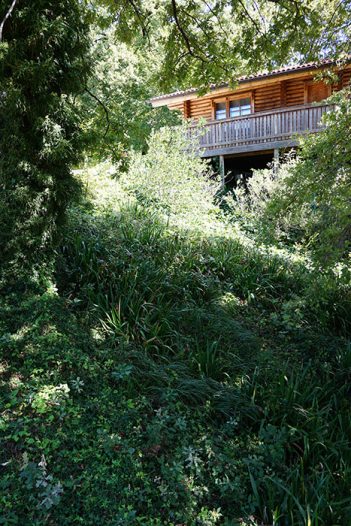 Primarily, they only grew perennials. All plants they sell were grown in their nursery, and each new species which they want to offer are first tested there.
Also, they put plant resistance before an appearance. Sometimes plants do not seem representative but nursery guarantees that the plants are able to survive after their transplant. That's why they use only the substrates produced by themselves and do not fertilize them with artificial fertilizers. Pretty spartan way of farming. l would even call it the Shaolin way, because the plants start life in their temple on the hill, exposed to the storm, snow, sun and other conditions that make them capable of surviving after transplantation. Now we wonder where to find such a nursery in Croatia (we really like to work with nursery «Bobica», feel free to send us and other contacts) and how to offer investors a plant that looks the way it looks, with the promise that plants will survive and will look like it should look after appropriate maintenance. Within a couple of years.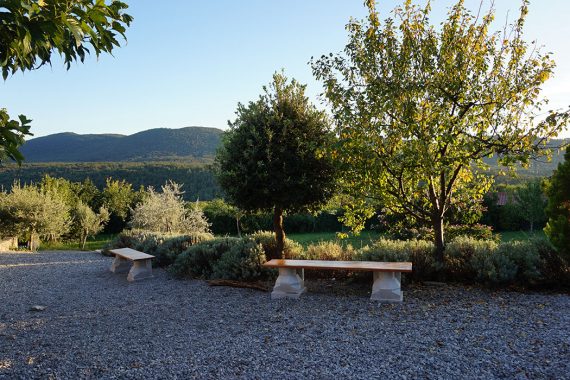 Bonus site we visited that day was Mladinski Hostel Pliskovica. The design is less oriented to the interior space and is more environmental. The garden is very tastefully designed, spacious, with facilities for the young and for children and for relaxation.